Late Breaking News !!!
Alert! -- DO NOT leave the Baer-Din (Gray input lead) and Earphone connected to the Baercom between uses!!! This will put way too much strain on the cable to connector interface and can result in noise issues and premature lead failure! The Baer-Din is a crucial piece of the Baercom system. Take care of it, and it will take care of you!
New! -- Across the pond with an uncooperative Baer-Din? We have put together a Tech Doc to enable you to do a local repair of the Baer-Din or Earphone lead, or else have it done locally. This can save you time and frustration if your yapping puppies can't wait on shipping!
New! -- "I want MORE Baer Trace Memory!" We can now offer internal storage for 63 Baer traces instead of just 31! Click here for more info.
New! -- We have put together a Maintenance Overview for the Baercom. This can be helpful if you own a Baercom or are considering a purchase. You can find this overview here.
Must Read! -- We have put together a Quick Start Guide (updated 1/21) for the Baercom system! This short doc can be found here and covers most areas of Baercom use. Pull it up on your smart-phone or print it out, then sit down with your Baercom and Computer, and you will be on your way. If you just bought a Baercom, work through this first! We hope it helps!
UFI Software Tech Advisory, 8/2020
"Aaarrggghhh!!! I just got a new computer, and read the manual, and did everything... Nothing is working... And I have puppies coming this weekend! Help!" Well, we haven't received this email yet. But given recent updates to the operating system on PC type computers... This UFI Software Install doc includes the latest information (8/2020) for installing UFI software on currently available PC type computers, explaining hazards we found along with work-arounds, for both the software install as well as USB Driver installation. We hope it helps!
---
---
Get there FAST! (Your time is precious, and this page is long!)
And you should really take a break and visit this quiet corner before you buy anything...
---
---
Introducing the BAERCOM™
Veterinary
Brainstem Auditory Evoked Response (BAER)
Evaluation System
Suzanne Nevada, SilverAurora Kennels, Wasilla, Alaska, with her Australian Cattle Dog, Teddy
Purchasing the Baercom System gets you all this!
Picture of the Baercom along with all included accessories. Note that the included software delivery media is now a USB Drive not a CD. Also, the printed Instruction Manual (~1 lb.) is not included with any international orders, nor any USA orders UNLESS specifically requested. A PDF copy is included on the USB drive and can also be accessed via a link below. You may print out a copy for your use at any time.
How can the Baercom help me?
If you have a veterinary practice, you can offer Hearing Teating as another billable service, augmenting your bottom line. (If you want to see some math...)
If you are an owner or breeder, owning your own Hearing Testing equipment can save your nerves from driving hundreds of miles with one or more litters of puppies in the back of your mini-van.
The BAERCOM: History and Vision
BAER testing is the standard method used to check for hearing defects in dogs. Many breeds of dogs are susceptible to genetic causes of deafness; BAER testing is used to exclude deaf dogs from the breeding pool. Canine BAER testing is generally performed on young puppies, and is always recommended for susceptible breeds before first sale or breeding.
Until recently there were very few locations available for BAER testing, typically just the few universities with veterinary schools such as the University of California, Davis, University of Colorado, and LSU among others. This made it inconvenient, as well as expensive, for breeders of susceptible breeds to have puppies tested.
Before the BAERCOM, the only equipment available for canine BAER testing was that developed for human use. Human-approved equipment meets very high standards and includes capabilities not required for screening puppies for deafness. And Human-approved equipment costs many thousands of dollars, which is prohibitive for the general veterinary practitioner.
UFI has developed a low cost device, the BAERCOM™, that is aimed at inexpensive, portable puppy screening. The BAERCOM includes only the minimum functionality required to test for hearing ability and does not include the more analytic functions and capabilites of the more expensive audiological testing machines.
Our vision for the BAERCOM is a simple, affordable alternative to regional BAER test centers for basic animal auditory testing. The BAERCOM was not and is not meant to replace the rigorous BAER testing capabilities of the regional centers. Instead, the BAERCOM permits an individual owner, breeder or small veterinary practice (our main customer base) to screen for hearing abnormalities. A "positive BAER test", meaning one that shows no hearing impairment, can be clearly evident with the BAERCOM. Should issues with hearing be surfaced by the BAERCOM, these animals can be re-tested at a later date, referred to a regional test center, or both.
The expensive audiological testers at the regional centers usually provide multiple click-stimulus frequency options and a very wide amplitude range. Instruments at the centers often offer "bone stimulation" capabilities, among other things. By contrast, the BAERCOM supplies just one stimulus frequency option, a simple wideband click with an adjustable amplitude (SPL) up to about 80 dB. Also, for simplicity's sake, the gain and pass band of the BAERCOM EEG signal conditioner are fixed.
The magnitude of the BAER response from your subject depends on how many "scans" (sets of 100 data collection passes) you allow the BAERCOM to make before you stop the test. For most small animals, 20 scans (2000 data collection passes) are usually sufficient to distinguish a positive BAER outcome.
The BAERCOM unit is packaged in a durable ABS plastic case just 1.4" x 5" x 7" in size. It features an easy-to-read LCD display, and storage capacity for up to 23 separate BAER tests (31 with our latest firmware!) in internal memory. A 9V alkaline battery provides power, making the BAERCOM truly portable. A standard USB connection simplifies interfacing to a PC computer for later data retrieval and printing.
These features permit animal hearing evaluation and research in locations where more expensive testers would be impractical or even impossible. A few of our outback customers in Australia, hundreds of miles from testing centers, offer an extreme example of situations where the BAERCOM is invaluable.
Simple, affordable animal hearing screening -- that's the BAERCOM!
And, by the way... Besides veterinary practices, the Baercom has been used on other 'small animals', even horses. In addition, the generous amount of internal Baer trace storage makes the Baercom a perfect fit for true 'field research'! Try lugging one of the bigger testers down miles of dirt road on the back of a motorcycle!
The BAERCOM instrument
The BAERCOM is a portable, stand-alone, 9V-battery-powered BAER hearing evaluation device for veterinary research and testing on dogs, cats, and other small- and medium-size animals.
The BAERCOM synchronizes click generation and EEG data collection to sample 11 milliseconds of EEG data, starting with the click onset. The resulting summed BAER response waveform is rapidly compiled and displayed on the graphics LCD.
The BAERCOM can be operated as a "stand alone" BAER evaluation tool, with the resulting BAER response clearly displayed on the graphics LCD. Up to 31 BAER response traces (up to 23 with earlier firmware) can be saved in memory inside the BAERCOM. Any of these recorded BAER traces can be displayed on the built-in LCD. They can also be downloaded to a PC when convenient.
PC software for the BAERCOM (included)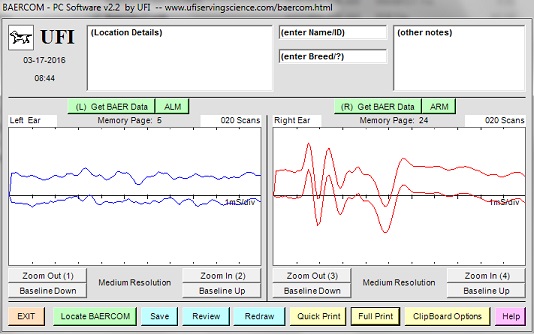 Each BAERCOM comes with PC software that can download the BAER traces from the BAERCOM and save the data to your computer. The BAER response for both ears can be combined into a simple, easy to use report form (shown above). The report can be annotated as desired, then saved and printed as required. BAER traces can also be copied to the PC Clipboard for use by other applications.
YES we obviously used the sample data twice in the picture above, and NO you shouldn't do that! We did that just to show that TWO different traces for EACH ear can now be included in the report! (Software version 2.2!) Many records associations now REQUIRE TWO Baer Collection Results (Traces) for EACH Ear, and this is just a good idea.
Still, the BAER traces shown above were collected with the BAERCOM from a lightly sedated, one-year-old male Dalmatian with unilateral hearing loss in the left ear. The collection of this BAER data for both ears took less than 5 minutes. Most pups, including the one in the picture at the top of the page, do not require sedation at all.
BAERCOM specifications
Stimulus method: one piezo-electric earphone (supplied) that fits into animal's ear (bone conduction or inductive earphones do not work with the Baercom)
Stimulus click amplitude: 6 settings between 40 and 80 dB
Stimulus click frequency: fixed, < 1 mS duration.
Number of EEG channels: one
EEG input: Two active needle electrodes plus a reference on the subject are connected via input leads with alligator clip terminations for use with widely available stainless steel hypodermic needles. A set of re-usable needle electrodes is also included.
EEG data collection period (one pass): 11 milliseconds
EEG pass repitition rate: every 25 milliseconds
Collection process: The BAERCOM collects 100 passes of EEG response data, sums them together, then compiles that data with previous scan data. The BAERCOM plots the composite Baer results on the LCD and then collects the next set of 100 passes. Baer collection can be stopped at any time.
Data storage: Up to 31 (23 for earlier firmware) final BAER data traces can be saved in non-volatile memory inside the BAERCOM. Saved BAER traces can be reviewed on the built-in LCD and downloaded to a PC computer with the BAERCOM software.
Saved BAER data file format: two or four sets of BAER data encoded as decimal ASCII along with various headers and text information.
PC operating system: Windows Xp and later (not yet available for Mac or Linux)
BAERCOM-to-PC interface: isolated USB
Power supply: standard 9V alkaline battery
Estimated battery life: approximately 24 Hours "on" time
Instrument size: rugged plastic case is approximately 1.5" x 5" x 7" (40mm x 130mm x 180mm)
Instrument weight: approximately 16 ounces (450 grams)
Important Notes
Legal Disclaimer: If you are an individual interested in purchasing the BAERCOM™, please check with your local veterinarian to see if there are any legal issues involved. In many locations, you can probably do anything you wish with your own animals, including BAERCOM testing. However, if you charge a fee for BAER testing of another person's animals, you are likely required by local law to be a licensed veterinarian -- a point on which we fully agree. We urge complete and full compliance with any local laws relating to BAER Hearing Testing in your area !!!
BAERCOM User Due Diligence: When used correctly, the BAERCOM can easily show the EEG/BAER tracing for normal hearing on the selected Ear of an animal. Like most EEG/BAER instruments, the successful use of the BAERCOM requires both a substantial familiarity with the meaning and appearance of the EEG BAER signal, as well as a methodical "attention to detail" approach to instrumenting and testing an animal. Thus a certain amount of "due diligence" is required of the BAERCOM user in order to successfully use the BAERCOM. Failure to master either or both of these two key areas can result in poor data that is incorrectly interpreted, but this should not be taken as a fault of the BAERCOM system.
Radiated Noise Caution: We recommend that you disconnect the BAERCOM from the PC computer (by disconnecting the USB cable from the USB connector on the top panel of the BAERCOM) before actually collecting BAER data from an animal. The gain of the EEG signal conditioner in the BAERCOM is very high, and power supplies (especially external supplies used with Notebook computers) can introduce a substantial amount of electrical interference, that can easily distort or mask the actual EEG/BAER signal that the BAERCOM is designed to measure.
UFI Interpretation Requests: UFI continues to work with a number of licensed DVM's, in both the development and support of the BAERCOM. However, UFI does not have a licensed DVM on staff. As a result, we are not able to interpret your BAER data for you. We may, at times, ask you to send us some of your BAER data, but this is only for evaluation regarding connection and signal quality issues.
Directional Consistency: The Baercom instructions repeatedly use the designations right and left. You can understand these directions as viewed from either the front of the animal (your Right and Left), or the back of the animal, the animal's Right and Left, which is preferred. Whatever approach you choose, use it consistently.
Do The Math department
We don't want any of our customers to make thousands just by rubber-stamping raging noise. That is why the Baercom instructions are BIG and SCARY! And you can rubber-stamp noise with ANY Baer tester. We assume you will conscientiously learn the required skills and carefully test (and retest) each animal. That said, if you charge say $60 per animal, the Baercom system pays for itself after maybe 50 animals. The rest is yours. And if you add Dog Shows into the equation...
New Educational Discounts Available! (USA Only)
If you have graduated with a DVM or Veterinary Technician degree in the last year, and have also completed or are in the process of completing a Neurology Residency, let us know! Qualifying applicants will be given a one-time $500 discount on a Baercom system!
If you are a veterinary educator serving a school that grants DVM or Vet Technician degrees, we will offer a one time $1,000 discount towards the purchase of a Baercom system for your institution. Our goal is to make it easier for your students to get hands-on experience with Baer testing!
The link in the heading directly above opens the version 2.2 Instruction Manual for the BAERCOM system. This latest version of the Baercom instructions includes both the vD.2 Firmware as well as the powerful new additions included in the version 2.2 Baercom-PC software -- Trace Mirroring, Trace Browsing and Trace Stacking.
If you are considering purchasing a Baercom system, please carefully review these instructions! They will answer a LOT of your questions about the nature and use of the Baercom system.
If you already own a Baercom, you should also carefully review these new instructions for the latest information. With over 20 additional pages, you might be able to find some helpful suggestions! And you may realize that the latest software can help streamline your Baer data collection process!
For your convenience, we have included the link to the older v2.1 Baercom system instructions here.
---
---
Baercom Maintenance Overview 12/21
Alert! -- DO NOT leave the Baer-Din (Gray input lead) and Earphone connected to the Baercom between uses!!! This will put way too much strain on the cable to connector interface and can result in noise issues and premature lead failure!
The Baercom is a robust device built with solid state, surface mount technology. After over 20 years of production, we can estimate a 7-10 year useful life based on careful handling. If you use your Baercom testing hundreds of puppies at shows, that can impact this estimate. And after 10 years, you should start considering replacement via our trade-in program. Whether you are buying or already own a Baercom, the goal of this overview is to give you some idea what to expect in the way of issues that can arise during normal use. And some of these issues can be avoided if understood ahead of time. We don't want you to run into issues out of the blue, surrounded by ten yapping puppies!
a. Electro-mechanical Issues
The electronics inside the Baercom will rarely go bad in the life of the unit. It is generally the electro-mechanical devices, the switches and connectors, these contribute to issues that can surface ahead of the 10 year mark. And the worst thing for an electromechanical device is to never move it!
Rotary Switches -- The contact surfaces involve rubbing as they make and break contact. If on the one hand, the switch is always left in one position, stimulus size for example, corrosion can slowly build up on the two contact surfaces. On the other hand, during normal use, the contact surfaces will slowly pit, and the spring pressure will slowly relax over time, resulting in poor connection and unpredictable operation. (This is why the D.2 firmware was a big deal; it saved substantial wear on the switches by allowing you to erase all Baer traces at once!) If the Click sound comes and goes, or if the operation of the Baercom becomes erratic, when the knobs are jiggled even a little, one of these switches might need replacing. And our preference is to replace all 3 at once; you will be glad we did.
Baer-Din -- The big gray input lead has the important job of getting your animal's tiny (sub-microvolt) EEG signal into the Baercom. Good lead separation and generous shielding make this lead as big as it is. The three standard DIN connections on one end of this cable accept the sheathed plugs from either the Alligator Clip leads (for use with hypodermic needles) or the plugs from the Stainless Needle electrode leads. Note that corrosion can easily build up inside these plugs especially if they are never moved. Since the EEG is so small, it does not take much corrosion to ruin your signal. We recommend moving this connection interface often, individually turning each plug, pulling out some, then push back in. At the other end of this cable, the black plug that plugs into the Baercom is a very high stress point. For many years now, we have back-filled this connector with industrial epoxy to try and hold everything together. If the gray lead turns inside the black connector, or slides in or out, broken wires are not far behind. Repair or replacement needs to be addressed soon. Section 2.4.4.4 of the instructions talk about testing this important item, as does the Quickstart Guide (see link near top of page). Please DO NOT leave the Baer-Din connected to the Baercom between uses!
Baer-Ear -- The earphone uses a much smaller lead, but going into the same size connector, and so we add epoxy to these as well. This can still give out however, and with the same result. The earphone element is piezo-electric, essentially a large crystal. Repeated mechanical impacts, even if small, can gradually crack this crystal, reducing the magnitude of the "click" stimulus. And if the wire rotates, slides in or out, and at either end, replacement is next. Finally, we include a note with the earphone that the white flange is held to the black earphone body with Super-Glue. Placing two fingers down over the flange before removing or replacing the soft rubber earphone tip can help avoid pulling the flange off.
b. Other Issues
Mechanical Damage -- Nobody can predict when the Baercom will accidentally fall, or get in harm's way. These things can't generally be avoided or even planned for, and returning your Baercom for repair is the likely result. Note that excessive pressure over the front of the LCD can damage it. This should be avoided too.
Fluid Intrusion -- Dealing with animals is complicated enough, and young animals especially can be counted on to not control their bodies at the worst possible time. The front surface of the Baercom is not sealed, and if fluids accidentally fall on the front surface of the Baercom, it is inevitable that some fluid will get inside. These fluids will fall on a pc board loaded with fine metallic structures, and bad things will happen.
Case Popping Open (Blush) -- The front panel is held firmly in place with 4 strong internal clips. Physical impact can cause one or more of these clips to release. Simply press the case halves back together. If the LCD doesn't work after that, it will need to come back to us. Generally, these clips wear in and hold tighter with time. Still, we even put tape along the mating edges in various locations if we think there might be a problem.
c. About Recalibration
We do not have a recommended recalibration schedule for the Baercom. The EEG amplifier inside the Baercom is a stable design handling a fully differential signal flow. As a result, there are only two adjustments inside the Baercom. One supplies a fine adjustment for the Earphone level (set at 70 db), and the other adjusts the DC Baseline of the EEG amplifier. Neither adjustment is expected to drift during normal use. And any gradual drift in the DC baseline is accommodated by the Baercom firmware.
d. System Checkout
You can send your Baercom back at any time and have us check it out. There is a fee for this. And we only need the Baercom, the Earphone and the Baer-Din (big gray input lead) along with whatever you plug into it (needle electrodes or alligator clip leads).
---
---
For BAERCOM™ Owners
If you already own a Baercom, keep checking back here for the latest information: recent improvements, upgrade offers, etc. And the link to the latest instructions is directly above the Maintenance Overview!
New! vD.3 Firmware + Bigger Memory = 63 internal Baer Trace memory!
Of course, you are posting 2 traces per ear on your hearing reports, right? The Baercom PC Software v2.2 allows you to add this second verification trace (instructions, section 4.5.1). But yes, that means you need to record 4 Baer traces per animal. Well, a litter of 10 is not unheard of, and that is (ulp) 40 traces... With revised firmware (D.3) and a different built-in memory module, your Baercom can hold 63 Baer traces!
We don't think every Baercom owner will need the extra space. But we know some Baercom owners will absolutely want it!
Pricing looks like this:
You can order a new Baercom with the 63 trace memory by asking for the "Baercom D.3" for an additional $300.
If you have D.1 or D.2, you can ship your Baercom back to us, and we will replace the memory module, reprogram the firmware to D.3 for $400 plus return shipping. (Note, this cost only covers the D.3 Upgrade. If you inlude the Baer Din and Earphone, we can check your Baercom out, but that is an extra cost.)
If your Baercom is older and not D.1 or D.2, then we can still offer our $1,000 trade-in credit against the purchase of a new Baercom.
On our "To-Do List": Note, we have not yet changed the v2.2 Baercom PC software. This means that, if you use the Software to pull in the entire trace memory (yes, you can do that, instructions 4.3, 4.5.2), you will still only get just the first 32 traces from a D.3 Baercom. Everything else should be the same.
(We apologize about going back and forth on the size of the expansion. We coded 63, then wondered if maybe 48 might be more realistic. Being customer focused, we ultimately decided to give our customers as much as we can, so... 63 traces + the sample trace it is.)
Recent Updates to the Baercom system!
--We have enhanced the Baercom-PC Software (two traces per window and more!)
--We have updated the Baercom Firmware! We added single action full erase and 8 more Baer trace storage pages! See more below.
New vD.2 Baercom Firmware Now Available!
We are working to make the Baercom even easier to use. Our recent work has resulted in firmware version D.2 which is now shipping in all new Baercoms. This new firmware includes the following enhancements:
We have expanded the internal Baer Trace memory from 23 to 31 BAER traces!
We have added the ability to erase ALL internal Baer Trace memory (all 31 Baer traces) with just ONE action! (Use carefully!)
Official Release Notes for this new firmware can be found here.
Baercom UPGRADE Options
We are also able to offer the following upgrade options for Baercoms with earlier Firmware. If you have the D.1 firmware, for $250 we will upgrade your firmware to D.2, and perform a basic check of your Baercom. Earlier Baercoms use a different processor, but we will offer you a $1,000 trade-in credit for your older Baercom against the purchase of a new Baercom at the current list price.
BAERCOM Simulator
For several years, UFI paid a local veterinarian to perform a final system check on each newly assembled BAERCOM. A puppy with hearing known to be normal served as the BAERCOM test subject. Then about four years ago, UFI Engineering devised a compact electronic stand-in for the puppy, resulting in faster and less costly quality control. We've just made this BAERCOM Simulator even more user-friendly and reliable, and are now happy to offer it as a standard product to BAERCOM owners worldwide.
How does it work? Just insert your BAERCOM earpiece into the panel-mounted microphone on the simulator to create an acoustic link. Then clip the BAERCOM input assembly to the simulator's snap terminals rather than to the electrodes you'd normally use with a live subject. Power up both units; each burst of BAERCOM stimulus triggers a simulated waveform like the one made by the auditory nerve in a real animal with normal hearing.
With the BAERCOM Simulator, Baercom users can now:
quickly "come up to speed" with the use of the overall BAERCOM system
check to be sure a BAERCOM is operating normally before use with a live animal, or if you suspect a problem
And, you can save money by purchaseing the Baercom and Simulator together!
Maybe a customer's dog chewed up your Baercom-PC software CD after your nephew was done playing frisbee with it... Or, maybe you were never able to find your CD after the last chaotic move... (Did you look in the back of the printed instructions?) Or, maybe your old computer crashed, and the new one doesn't even have a CD drive, and you have testing to do this weekend... Or maybe you read about the latest software, and you are excited about the possibilities... Or, maybe... all of the above!
We are pleased to be able to offer the Baercom-PC software CD contents for the latest version of the Baercom-PC software as an electronic download! (This is now v2.2!) The link at the top of this section takes you to the directions for performing the Electronic Download; READ THESE FIRST!. Note that you will need to call or email UFI with your Baercom serial number handy. We will verify your Baercom, then give you the FTP access username and password.
The instructions for the earlier v2.1 software download are included here just in case.
Ok, so your Baercom-PC Software starts and runs fine, but it can't find your Baercom. Maybe everything was working fine, then just quit. Or maybe you upgraded operating systems, or this is on a totally new computer. This detailed Tech Article (link in title above) discusses Everything USB as far as UFI USB devices is concerned, and that includes the Baercom! This tome should help you get your Baercom and your computer friends again! But, of course get in touch with us if you can't seem to get things fixed.
Baercom owners can check here (link above) to see how their Baercom fits in the overall development of the Baercom system. Maybe it is upgrade time!
(Blush) In case you ever see this!
This is the electrode connection end of the Baer-Din, the big gray input lead for the Baercom. Early in production we mark the end two locations with marker, black and red (yellow is in the center). We do "occasionally" forget to add the pretty label however. The Baer-Din is still usable like this! You can just keep the marker looking nice. You can also refer back to this picture should you ever question where you placed the electrode leads. We apologize for our error!
---
---
Quiet Corner...
Ok, so go get a soda or a cup of coffee, then come back, have a seat and just relax a few minutes. We need to talk.
Whether you already have a Baercom or any other Baer tester, whether you are thinking about buying a Baercom or any other Baer tester, or maybe you are getting ready to use any Baer tester, I need to warn you. The signal you want to actually measure, the BAER signal, it is very small, less than a microvolt. A microvolt is one millionth of a volt! And the electrical noise raging all around us is far stronger. Given the chance, that raging noise is what you will see, maybe all you will see. Your only hope is to get that needle, all 3 needles, reliably down into the wet, live tissue underneath the animal's skin. That is the only way to minimize the noise, no matter whose Baer system you are using. And the success or failure, the accuracy of any Baer test, regardless of the equipment, depends almost entirely on that direct connection to live tissue. Electrode placement is important, but earphone, switches, knobs and dials; most of the rest is just setup. A good connection to live tissue is what allows the EEG signal conditioner and repetitive summing algorithm to work together to do their job. I don't mean to scare you off with this dose of reality! You need to know that many veterinarians use the Baercom and other Baer testers at dog shows, performing Baer testing on multiple litters of puppies in a single afternoon, certainly not for free. Yes you CAN become very profficient at quickly getting those three needles right where they belong. But it often takes a lot of practice. You should be prepared to invest plenty of time in that before charging a dime, no matter which Baer system you purchase.
The very first section of the Baercom instructions explains the BAER signal; what it is, what it looks like, and why. Well, it is a Baer tester you are or will be using, so you want to become very familiar with that Baer signal, right? Who would try to use any tester with little or no understanding what you are testing for? We live in a world where our fruity little hand-held devices do everything for us. Baer testing is not like that at all! Especially if you get paid for Baer testing, you had better be very familiar with the Baer signal, no matter which tester you use. It is not rocket science; it just requires effort and experience on your part to come up to speed. That is why we recommend spending hours testing one or more animals, in a totally no pressure, no fee, no hassle environment. There is no excuse not to do this. And yes, you should literally jump at any opportunity for Audiology training, maybe even first thing!
Let me give you some inside information. From our perspective, the most important sentence in the instructions is this one: 'If it is the BAER signal you are seeing, the results will be very close, one collection after another.' This applies to any tester, not just the Baercom! Ok, so I timed this. 20 scans (2000 BAER data collection passes) should show you a good Baer signal. How long does 20 scans take with the Baercom? 1 minute! One extra minute is all it takes for you to run another collection and verify if what you are seeing is the Baer signal, or raging noise. This second verification collection is such a good idea that many records bodies now require two Baer traces per ear! The v2.2 Software actually allows you to add this second 'mirror' trace to each ear data plot, precisely for this reason. Do your customers a favor and make sure. It doesn't take long.
Yes, I am supressing a smile right now. Someone called our Baercom instructions big and scary. I cannot promise it is a lucid tome, but seriously... As complex as the Baer testing process is... Oh well...
And I don't know... We live in a world where you can say something, and it can literally circle the globe for thousands to hear, to read, and then smash back to you on the internet, in 30 minutes or less. Well we seldom hear what people are saying about the Baercom 'out there', but the following is worth considering. We have been selling EEG signal conditioners, along with portable data recorders for EEG and a wide variety of other physiological signals, into the medical research market for decades. And micro-controllers have increasingly played a crucial role in many of these systems. We have also supplied capable, useful and accurate test equipment to researchers for just as long. We have also had to battle the PC computer operating system... nevermind. The Baercom was born into this rich technical background over 20 years ago, and we have worked steadily at minor improvements along the way, mostly to the PC software. And the only academian that we know who has spent appreciable time with the Baercom loves it, because it is so much smaller than the other big testers. What is my point? Well, maybe take what you read on the internet about our Baercom with a grain or two of salt, no matter whose name shows.
---
---
Order Mumbo-jumbo
-- I Just Want my Baercom or Baercom Gizmo!
Payment via Credit Card (MC/V only) is the fastest way to place your order. This is the information we need:
How can we Contact You?
Your Name
Your Phone Number
Your Email Address
What Do You Want?
Which Gizmo?
How Many Gizmos?
(Repeat both for other Gizmos)
What Are the Credit Card Details? (MC/V only)
Credit Card Number (double-check!)
Expiration Date (month/year)
3 Digit CVV Security Code
Name on Credit Card
Credit Card Billing Address
Where do you want it Shipped?
Destination Name (if different)
Exact Destination Address (if different)
Phone Number At Destination (if different)
If simplicity is your game, just COPY the outline above, then paste it into an EMail! Of course you need to change it to show your details. And mention the 30 Day Free Trial if you want that (USA customers only!). Next, change the EMail 'Re:' field to say 'Baercom Stuff Order' or something similar. The EMail address needs to be mail@ufiservingscience.com and maybe double-check that!
Hit Send... boom... done!
-- Ok, lay it all out for me
So you want a Baercom? The easiest way is to send us an EMail (mail@ufiservingscience.com), mentioning that you wish to purchase a Baercom. You need to include your name, complete address and phone number! Payment via Credit Card (MC/V only!) is the easiest, but we need the card number, expiration date, exact billing address for the card and CVV security code in order to process it. We will call for the CVV code if you don't include it. We apologize, but we cannot place phone calls to destinations outside the USA.
You can use our Customer Contact form (at the bottom of that page) to enter your order info in and send your order directly to UFI. Also mention you wish to purchase a Baercom, and we still need all of the same information requested above, before we can process your order.
You can also visit our How to Order page to get an overview of our standard order process. This information might be helpful for institutions or if you want to supply a purchase order.
Standard shipping method for the Baercom is UPS.