Model 1010 Piezoelectric Pulse Transducer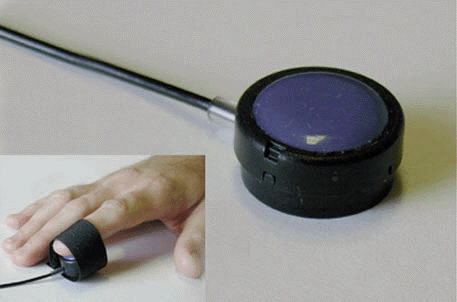 The 1010 is a rugged piezo-electric transducer that is designed to reliably monitor and sense peripheral pressure pulses, Korotkoff sounds, carotid pulses, small animal respiratory activity, swallowing, and many other dynamic biological functions. For human subjects, the 1010 offers 'strap on simple' access to the Finger PPG signal and the heart rate information the PPG can supply. The 1010's small size and high output make it ideal for both teaching and research applications.
And since all 1010 models are piezo-electric, they do NOT require an excitation voltage!
Our 1010 is also available in other sizes as well. We can supply a smaller version of our standard 1010, the 1010.5. It boasts a reduced outside diameter (0.55") for use on smaller subjects, or where space is at a premium.
The 1010 is also available as an air column coupled transducer. Ask for the 1010C (shown below). This transducer is handy if you want or need to remotely sense some physiological phenomenon that can be easily routed via an air column.
Standard 1010 Transducer Specifications
Signal source: piezoelectric
Excitation required: none
Frequency response: 2.5 Hz. to 5 KHz. A "charge amplifier" circuit can be used to extend the low frequency response of the 1010. Contact UFI for more information.
Signal output: 20-50 mV into 1 MOhm (typical Finger PPG output)
Weight: 0.5 oz.
Size: 0.95" diameter, 0.5" thick
Lead length: 6 feet
Typical 1010 attachment: "hook and loop" strap