UFI BAERCOM™
Veterinary Brainstem Auditory Evoked Response (BAER) Evaluation System
Suzanne Nevada, SilverAurora Kennels, Wasilla, Alaska, with her Australian Cattle Dog, Teddy
The BAERCOM: History and Vision
BAER testing is the standard method used to check for hearing defects in dogs. Many breeds of dogs are susceptible to genetic causes of deafness; BAER testing is used to exclude deaf dogs from the breeding pool. Canine BAER testing is generally performed on young puppies, and is always recommended for susceptible breeds before first sale or breeding.
Until recently there were very few locations available for BAER testing, typically just the few universities with veterinary schools such as the University of California, Davis, University of Colorado, and LSU among others. This made it inconvenient, as well as expensive, for breeders of susceptible breeds to have puppies tested.
Before the BAERCOM, the only equipment available for canine BAER testing was that developed for human use. Human-approved equipment meets very high standards and includes capabilities not required for screening puppies for deafness. And Human-approved equipment costs many thousands of dollars, which is prohibitive for the general veterinary practitioner.
UFI has developed a low cost device, the BAERCOM™, that is aimed at inexpensive, portable puppy screening. The BAERCOM includes only the minimum functionality required to test for hearing ability and does not include the more analytic functions and capabilites of the more expensive audiological testing machines.
Our vision for the BAERCOM is a simple, affordable alternative to regional BAER test centers for basic animal auditory testing. The BAERCOM was not and is not meant to replace the rigorous BAER testing capabilities of the regional centers. Instead, the BAERCOM permits an individual owner, breeder or small veterinary practice (our main customer base) to screen for hearing abnormalities. A "positive BAER test", meaning one that shows no hearing impairment, can be clearly evident with the BAERCOM. Should issues with hearing be surfaced by the BAERCOM, these animals can be re-tested at a later date, referred to a regional test center, or both.
The expensive audiological testers at the regional centers usually provide multiple click-stimulus frequency options and a very wide amplitude range. Instruments at the centers often offer "bone stimulation" capabilities, among other things. By contrast, the BAERCOM supplies just one stimulus frequency option, a simple wideband click with an adjustable amplitude (SPL) up to about 80 dB. Also, for simplicity's sake, the gain and pass band of the BAERCOM EEG signal conditioner are fixed.
The magnitude of the BAER response from your subject depends on how many "scans" (sets of 100 data collection passes) you allow the BAERCOM to make before you stop the test. For most small animals, 20 scans are usually sufficient to distinguish a positive BAER outcome.
The BAERCOM unit is packaged in a durable ABS plastic case just 1.4" x 5" x 7" in size. It features an easy-to-read LCD display, and storage capacity for up to 23 separate BAER tests in internal memory. A 9V alkaline battery provides power, making the BAERCOM truly portable. A standard USB connection simplifies interfacing to a PC computer for later data retrieval and printing.
These features permit animal hearing evaluation and research in locations where more expensive testers would be impractical or even impossible. A few of our outback customers in Australia, hundreds of miles from testing centers, offer an extreme example of situations where the BAERCOM is invaluable.
Simple, affordable animal hearing screening -- that's the BAERCOM!
The BAERCOM instrument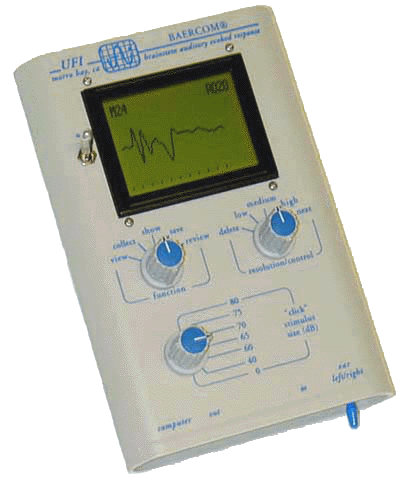 The BAERCOM is a portable, stand-alone, 9V-battery-powered BAER hearing evaluation device for veterinary research and testing on dogs, cats, and other small- and medium-size animals.
The BAERCOM synchronizes click generation and EEG data collection to sample 11 milliseconds of EEG data, starting with the click onset. The resulting summed BAER response waveform is rapidly compiled and displayed on the graphics LCD.
The BAERCOM can be operated as a "stand alone" BAER evaluation tool, with the resulting BAER response clearly displayed on the graphics LCD. Up to 23 BAER response plots can be saved in memory inside the BAERCOM. Any of these recorded BAER plots can be displayed on the built-in LCD. They can also be downloaded to a PC when convenient.
PC software for the BAERCOM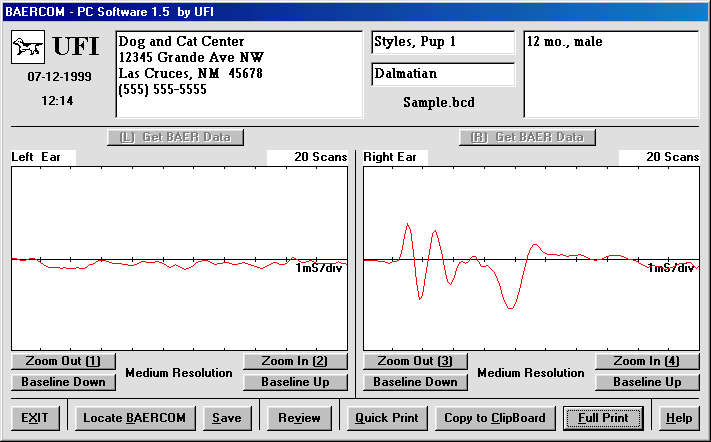 Each BAERCOM comes with PC software that can download the BAER data from the BAERCOM and save the data to your computer. (Version 1.5 is shown above, but 2.1 is our current version and is similar.) The BAER response for both ears is posted on a simple, easy to use form (shown above) that can be printed. BAER plots can also be copied to the PC clipboard for use by other applications.
The BAER traces shown above were collected with the BAERCOM from a lightly sedated, one-year-old male Dalmatian with unilateral hearing loss in the left ear. The collection of this BAER data for both ears took less than 5 minutes. Most pups, including the one in the picture at the top of the page, do not require sedation at all.
BAERCOM specifications
Stimulus method: one piezo-electric earphone (supplied) that fits into patient's ear (bone conduction or inductive earphones do not work with the Baercom)
Stimulus click amplitude: 6 settings between 40 and 80 dB
Stimulus click frequency: fixed, < 1 mS duration.
Number of EEG channels: one
EEG input: Two active needle electrodes plus a reference on the subject are connected via input leads with alligator clip terminations. Stainless steel hypodermic needles work well for the electrodes. Medical supply houses can provide a variety of purpose-designed needle electrodes as well.
EEG data collection period (one pass): 11 milliseconds
EEG pass repitition rate: every 25 milliseconds
Collection process: The BAERCOM collects 100 passes of EEG response data, then averages the data with previous data. The BAERCOM plots the composite average on the LCD and then collects the next set of 100 passes. Collection can be stopped at any time.
Data storage: Up to 23 final BAER data sets can be saved in non-volatile memory inside the BAERCOM. Saved BAER data can be reviewed on the built-in LCD or downloaded to a PC computer with the BAERCOM software.
Saved BAER data file format: two sets of BAER data encoded as decimal ASCII along with various headers and text information. This file can be opened with most word processing software.
PC operating system: Windows 98 and later (not yet available for Mac or Linux)
BAERCOM-to-PC interface: isolated USB
Power supply: standard 9V alkaline battery
Estimated battery life: approximately 24 Hours "on" time
Instrument size: rugged plastic case is approximately 1.5" x 5" x 7" (40mm x 130mm x 180mm)
Instrument weight: approximately 16 ounces (450 grams)
For several years, UFI paid a local veterinarian to perform a final system check on each newly assembled BAERCOM. A puppy with hearing known to be normal served as the BAERCOM test subject. Then about four years ago, UFI Engineering devised a compact -- 1.5" x 5" x 7" (40mm x 130mm x 180mm) -- electronic stand-in for the puppy, resulting in faster and less costly quality control. We've just made this BAERCOM Simulator even more user-friendly and reliable, and are now happy to offer it as a standard product to BAERCOM owners worldwide.
How does it work? Just insert your BAERCOM earpiece into the panel-mounted microphone on the simulator to create an acoustic link. Then clip the BAERCOM input assembly to the simulator's snap terminals rather than to the electrodes you'd normally use with a live subject. Power up both units; each burst of BAERCOM stimulus clicks triggers a simulated waveform like the one made by the auditory nerve in a real animal with normal hearing.
With the BAERCOM Simulator, Baercom users can now
quickly "come up to speed" with the use of the overall BAERCOM system
check to be sure a BAERCOM is operating normally before use with a live animal, or if you suspect a problem
Important Notes
Legal Disclaimer: If you are an individual interested in purchasing the BAERCOM™, please check with your local veterinarian to see if there are any legal issues involved. In many locations, you can probably do anything you wish with your own animals, including BAERCOM testing. However, if you charge a fee for BAER testing of another person's animals, you are likely required by local law to be a licensed veterinarian -- a point on which we fully agree. We urge complete and full compliance with any local laws relating to BAER Hearing Testing in your area !!!
BAERCOM User Due Diligence: When used correctly, the BAERCOM can easily show the EEG/BAER tracing for normal hearing on the selected Ear of an animal. Like most EEG/BAER instruments, the successful use of the BAERCOM requires both a substantial familiarity with the meaning and appearance of the EEG BAER signal, as well as a methodical "attention to detail" approach to instrumenting and testing an animal. Thus a certain amount of "due diligence" is required of the BAERCOM user in order to successfully use the BAERCOM. Failure to master either or both of these two key areas can result in poor data that is incorrectly interpreted, but this should not be taken as a fault of the BAERCOM system.
Radiated Noise Caution: We recommend that you disconnect the BAERCOM from the PC computer (by disconnecting the USB cable from the USB connector on the top panel of the BAERCOM) before actually collecting BAER data from an animal. The gain of the EEG signal conditioner in the BAERCOM is very high, and power supplies (especially external supplies used with Notebook computers) can introduce a substantial amount of electrical interference, that can easily distort or mask the actual EEG/BAER signal that the BAERCOM is designed to measure.
UFI Interpretation Requests: UFI continues to work with a number of licensed DVM's, in both the development and support of the BAERCOM. However, UFI does not have a licensed DVM on staff. As a result, we are not able to interpret your BAER data for you. We may, at times, ask you to send us some of your BAER data, but this is only for evaluation regarding connection and signal quality issues.
Directional Consistency: These instructions repeatedly use the designations right and left. You can understand these directions as viewed from either the front of the animal, or the back of the animal. Whatever approach you choose, use it consistently.
This is the current Instruction Manual for the BAERCOM system. Please review this for current information if you already own a BAERCOM, and carefully read this manual through if you are thinking about purchasing a BAERCOM.
Miscellaneous items
BAERCOM owners can check for updated Software here